Alaska Discovery Tour
Glacier Bay National Park, Inside Passage Cruise & Alaskan Interior Tour
August 1 - 14, 2017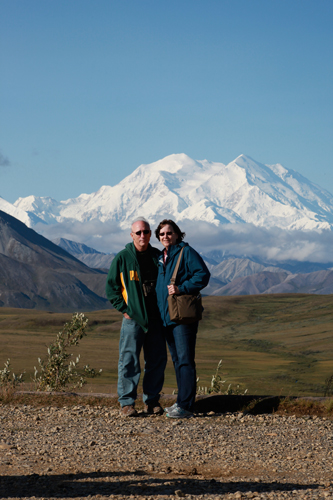 TRIP HIGHLIGHTS
7-Day Inside Passage Cruise on MS Zaandam Ship
Glacier Bay National Park (Holland America Cruises Allowed Here ONLY) Juneau Whale Watching Tour
Yukon Tour out of Skagway
Mendenhall Glacier Viewing
Seattle's Pike Place Market
Vancouver's Stanley Park
Denali National Park
Tour of Anchorage
Cabin Nite Dinner Theater
Tundra Wilderness Tour
Alaskan Wildlife: Caribou, Moose, Dall Sheep, Grizzly Bear, and More! Denali – Highest Point in North America

RATES per person
Cruise AND Interior Tour
Double -- Inside Cabin
(Group of 2): $5,499
Double -- Ocean View Cabin
(Group of 2): $5,699
Double -- Outside Balcony Cabin
(Group of 2): $6,699
Cruise Only
Double -- Inside Cabin
(Group of 2): $4,399
Double -- Ocean View Cabin
(Group of 2): $4,599
Double -- Outside Balcony Cabin
(Group of 2): $5,599
Contact us for single rates.

DEPARTURE LOCATIONS
Mitchell, SD
Yankton, SD
Eau Claire, WI
Menomonie, WI
Minneapolis, MN
Others upon request

INCLUDED IN TOUR
Professional tour director
Professional motor coach driver
Professional photographer
All flights and transfers
Local departures
Step on guides for city tours
Top quality accommodations – 4 Star and above
Luxury motor coaches
Many meals on tour, equal amount of breakfasts and lunches/dinners
Tips on all meals
All taxes, fees, visas, etc. included in total price of tour
Personalized service
Final documents for trip details, 8 weeks prior to departure
Luggage handling
Much, much more!
 
NOT INCLUDED IN TOUR
Every meal not included – guests are informed about how much more money to expect to pay for meals prior to departure
Tips for photographer and driver - $2 per person per day is recommended. Bluebird Guided Tours also tips drivers and photographers individually
Personal expenses (souvenirs, phone calls, and other personal costs)
ITINERARY
Day 1: Flight into Anchorage, Alaska
The Alaska Discovery Tour begins! We travel together from one of our Midwestern locations to Anchorage, Alaska by motor coach and airplane. Have dinner in Anchorage then relax for the evening. We will check into our lodging and have a relaxing night as we prepare to head north tomorrow to Denali National Park!
Comfort Inn and Suites, Anchorage, AK
Day 2: Anchorage to Denali National Park
*Breakfast and Dinner Included
Wake early and travel by motor coach from Anchorage to Denali National Park, stopping along the way to hopefully get a view of the majestic 'Great One,' Mount McKinley, the tallest mountain in North America. We continue on to McKinley Park, Alaska the gateway to Denali National Park where we arrive to our lodging, the Denali Grizzly Bear Resort. To finish the evening we dine at the Cabin Nite Dinner Theater; a delicious family style meal fit for an Alaskan Sourdough accompanied by a show that will have us singing the night away.
Denali Grizzly Bear Resort, McKinley Park, AK
Day 3: Denali National Park
*Breakfast and Lunch Included
Today, we wake early to discover Denali National Park with the Tundra Wilderness Tour; this tour provides the best chance of seeing wildlife while in Alaska. Tours are led by certified park guides with intentions of viewing animals like grizzly bear, Dall sheep, moose, caribou and more! After the tour ends, make our way to Fairbanks, one of the largest northern cities in the world. Prepare to learn about their culture and way of life in some fantastic sights and activities tomorrow.
Best Western, Fairbanks, Alaska
Day 4: Fairbanks
*Breakfast Included
Board the Riverboat Discovery to travel by this stern wheeled, flat bottom boat, down the Chena River. We'll visit a Native Athabascan Indian Village and get a full tour, see a floatplane demonstration, and visit the dog kennels of the late 4-time Iditarod Champion, Susan Butcher. Finish the cruise, get lunch, and head to the El Dorado Gold Mine to pan for REALGOLD! After we make our fortunes we'll finish the day recounting the exciting past couple of days with a social hour and included meal at the famous Alaskan Salmon Bake!
Best Western, Fairbanks, Alaska
Day 5: Wasilla
Travel by motor coach from Fairbanks to Wasilla today. We will be making stops periodically to view Mount McKinley, see wildlife, and to have lunch before we arrive into Wasilla. Begin to think about the next days relaxing on a cruise ship that departs out of Seward tomorrow afternoon.
Best Western, Wasilla, AK
Day 6: Seward -- Cruise Begins!
*Dinner Included
Keep your eyes peeled for moose on this beautiful drive to Seward via the Kenai Peninsula, past Turnagain Arm, and the Chugach/Kenai Mountain ranges. Once we arrive in Seward board Holland America's MS Zaandam for a 7-day sailing through Alaska's Inside Passage which ends in Vancouver, British Columbia, Canada. There will be things to do at each port from shopping, sightseeing, and excursions in the different port towns. Each traveler will receive a full itinerary of the included and additional excursions at the ports of call. During the cruise enjoy each meal included, so eat until your heart is happy and your belly is full.
Cruise Ship MS Zaandam
Day 7: Cruising at Sea
*Breakfast, Lunch, and Dinner Included
It will be a good relaxing day after all the travel and miles we have put on over the last week of touring. Explore the cruise ship for everything that it has to offer today and rest up as we prepare for the glaciers tomorrow!
Cruise Ship MS Zaandam
Day 8: Glacier Bay National Park (Port of Call: 10 a.m.–7 p.m.)
*Breakfast, Lunch, and Dinner Included
Wake up to one of the highlights of the trip, Glacier Bay National Park. We'll watch for massive pieces of ice, sometimes hundreds or thousands of pounds, falling into the ocean in a process called glacial calving. These tidewater glaciers (glaciers touching the water) are some of the most amazing in the world, but only accessible with our cruise ship in this national park. Keep your camera in hand; this will be a day to remember!
Cruise Ship MS Zaandam
Day 9: Haines – Skagway (Port of Call: 6:30 a.m.–9 p.m.)
*Breakfast, Lunch, and Dinner Included
Land into Haines, Alaska today, the exciting town just a short ferry ride away from Skagway, Alaska. Experience the gold mining town of Skagway if you wish – it is a historic town and was the gateway to the Klondike Goldrush in 1898.
Cruise Ship MS Zaandam
Days 10: Juneau (Port of Call: 8 a.m.–6 p.m.) – Whale Watching
*Breakfast, Lunch, and Dinner Included
Mendenhall Glacier awaits us today along with time spent in Juneau, Alaska – the state capital. Today, we will get closer than we have been the entire trip to a glacier as we travel to Mendenhall Glacier. Following lunch, we take an included 3 hour whale watching cruise, searching for humpback and orca whales. Finish the day off with some shopping or a cold one at the Red Dog Saloon – whatever your choice is, this will be a fantastic day.
Cruise Ship MS Zaandam
Day 11: Ketchikan (Port of Call: 11 a.m.–7 p.m.)
*Breakfast, Lunch, and Dinner Included
Enjoy the small Southeast Alaska, fishing town of Ketchikan, known as the Salmon Capital of the world! We'll get to know the town and the culture of the native Tlingit people who are known for the construction of totem poles. Tour through Totem Bight State Park, which is one of the many locations the poles are on display in this small town.
Cruise Ship MS Zaandam
Day 12: Scenic Cruising the Inside Passage
*Breakfast, Lunch, and Dinner Included
Today it's a day at sea as we make our way to the end of our cruise in Vancouver, British Columbia, Canada. Enjoy the relaxation of the last days at sea and enjoy the scenery as we finish up a gorgeous journey through Alaska's Inside Passage.
Cruise Ship MS Zaandam
Day 13: Vancouver, Canada – Seattle, Washington
We arrive into our final cruise destination and port of disembarkation in the morning. After spending some time in Vancouver we'll then travel by motor coach to Seattle and stop at Pike Place Market, the city's largest open air market and most historic. For the night check out the space needle or choose to relax by heading back to the hotel to prepare for our return trip home tomorrow.
Hampton Inn, Seattle, Washington
Day 14: Traveling Home
Say farewell to your new traveling friends and the most scenic parts of the world. What a fantastic trip through Alaska, the Inside Passage, and the Pacific Northwest. Travel through the day to get home to your respective departure locations. Alaska was incredible and we hope to see you again on the next journey you take!